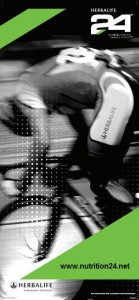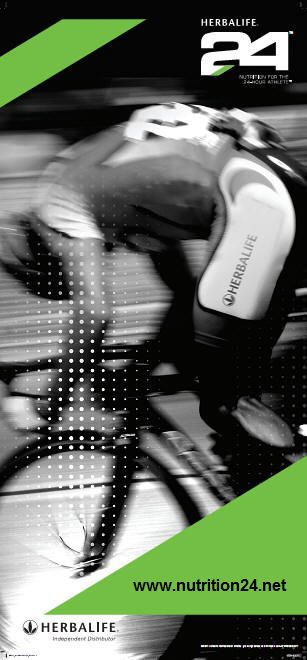 "Throughout my cycling career I've used a wide range of energy and recovery products from a variety of manufacturers. I can safely say that the Herbalife 24 range is the best I've used, by a significant margin. The range covers all bases for riding, recovering and even healthy snacks and meal substitutes.
The Herbalife 24 range, everything the athlete needs in the course of a day. Hey, is that why it's called 24?
A typical training ride for me is somewhere between three and five hours so I start my day with a bowl of porridge supplemented with a few scoops of the Herbalife Formula 1 Sport powder (as suggested by Monsieur Kay, sous-chef at Maison d'Reid Parc). I take two bottles on the ride, if it's a long ride I fill both with Herbalife Prolong (a 7:1 carb to protein formulation that increases endurance whilst reducing fatigue and muscle damage) or, for a shorter ride, one bottle with Prolong and the other with Herbalife Hydrate (an isotonic formulation of minerals and electrolytes to replace those lost through sweat). I also take two of the Herbalife Protein bars which help to prevent me from feeling empty and are a great reward for completing any intervals in my training session.
A little will get you a surprisingly long way. Note the additional sachets of Hydrate which can be used if an extra water stop is required while on the road.
Once back from the ride I use my Herbalife 24 Protein Shaker (with whisk ball for easy mixing – genius!) to mix up a combination of Rebuild Endurance and Rebuild Strength – I feel this gives me the best combination of muscle repair and glycogen replacement without unwanted bulk. Incidentally the two products combine to give a lovely chocolate vanilla flavour.
Kit Gilham, Team Herbalife Lesuire Bikes