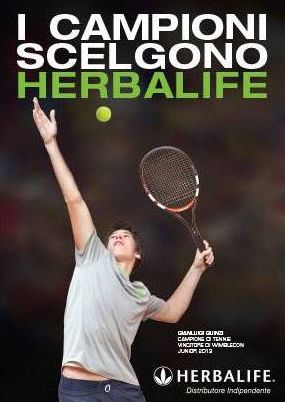 Tennis player Gianluigi Quinzi, along with water polo Valentino Gallo, are the new faces of the "Team Herbalife".
"Valentino and Gianluigi, even with age and different stories are united by the same desire to win and show your value, two young talents with great conviction that we have chosen to support and accompany them in the following sports – said Christian Naples, Contry Director Italy Herbalife – We will be helping these two athletes to express their full potential by providing the great experience that the company has in the field of sports nutrition and integration. I am sure it will be an adventure full of satisfaction. "
"I'm excited and can not wait to work with the experts that will help me find the right combination of products in the H24 ( Herbalife 24 programme )- said Quinzi instead – I am sure that training combined with a balanced diet and proper supplementation me help to support the workloads and the expenditure of physical and nervous energy related to each race. "  In 2013 Gianluigi Quinzi become just the second Italian to capture the Boys' Singles Championship at Wimbledon.