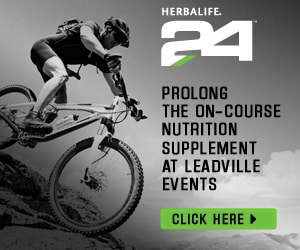 On August 13, Team Herbalife24, including Herbalife Chairman and CEO Michael O. Johnson and Dr. John Heiss, will be putting Herbalife24 products to the test at the Leadville Trail 100 cycling race in Colorado.
This 100-mile bike endurance course includes mountain trails at elevations of over 13,000 feet. Each rider's goal is to bring home the prestigious silver belt buckle trophy.
As part of the seven-product Herbalife24 line, PROLONG* is this year's Leadville Trail Races on-course dietary supplement.
Herbalife24 Base Camp
Herbalife has also set up the Herbalife24 Base Camp at the race site, and pro mountain bike athlete Nate Whitman is the Program Director.
While there, team members and visiting riders will be able to sample the new Herbalife24 endurance supplements.
Follow Nate and the Herbalife24 Team through updates and activities as they prepare riders from all over the world to train for the race. Stay up to date on the latest happenings:
Look for ride announcements on our Twitter feed.
*Currently, Herbalife24 Prolong is a product available only in the United States.