LA2015, the Organizing Committee for the 2015 Special Olympics World Games, and global nutrition company Herbalife announced a partnership that will assist in meeting the nutritional needs of 7,000 athletes and 3,000 coaches from 177 countries during their nine days in Los Angeles for the Games, July 25-August 2, 2015.
In its role as a Games Supplier, Herbalife will support World Games participants and attendees, providing 300,000 nutrition bars to athletes, coaches, staff, volunteers, families program and honored guests at all sports venues and general dining areas. Additionally, Herbalife's Los Angeles Distribution Center in Carson will serve as the organizing committee's Uniform Distribution and Credentialing Center (UDAC), and volunteer registration hub.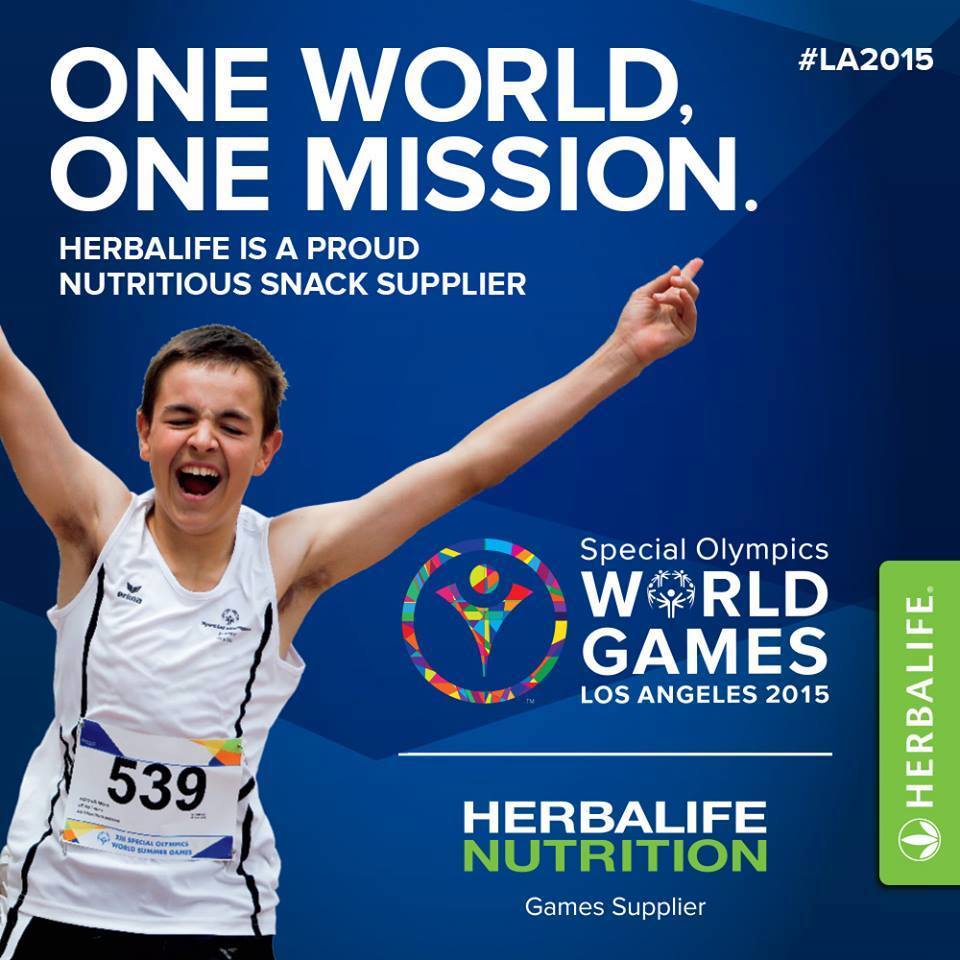 "Herbalife is a global company that shares our commitment to health, diversity and community," said Patrick McClenahan, President and CEO of the 2015 Special Olympics World Games. "Through its network of members in 90 countries, Herbalife will bring awareness to our mission of acceptance and inclusion."
To kick off the partnership, LA Galaxy players Omar Gonzalez and Jaime Penedo today faced off in a mini soccer match with Special Olympics Southern California (SOSC) players. They were cheered on by Herbalife independent members and employees. Herbalife is a nutrition sponsor of the LA Galaxy team, fueling the team's last three MLS Cup wins in 2011, 2012 and 2014.
"We are proud to be a Games Supplier and to partner with an organization that embodies the positive impact of living a healthy active life," said Michael O. Johnson, chairman and chief executive officer, Herbalife. "We welcome the Special Olympics World Games to Los Angeles and we are excited to play our part in such an important event in bringing good nutrition to athletes, coaches, and volunteers throughout the games."
The World Games will feature 25 Olympic-style sports: Aquatics, Athletics, Badminton, Basketball, Bocce, Bowling, Cycling, Equestrian, Football, Golf, Gymnastics, Half Marathon, Handball, Judo, Kayaking, Open Water Swimming, Powerlifting, Roller Skating, Sailing, Softball, Table Tennis, Tennis, Triathlon, Volleyball, and Beach Volleyball. These Games will showcase the unlimited potential of people with intellectual disabilities – the largest disability population in the world.
The Opening Ceremony will take place at the Los Angeles Memorial Coliseum on Saturday, July 25, and will be televised to a worldwide audience by ESPN. To learn more, visit www.LA2015.org. For volunteer information, including becoming a Fan in the Stands, visit http://www.LA2015.org/volunteer.
About the Special Olympics World Games Los Angeles 2015 (LA2015)
With 7,000 athletes and 3,000 coaches representing 177 countries, along with 30,000 volunteers and an anticipated 500,000 spectators, the 2015 Special Olympics World Games – being staged in Los Angeles July 25 – August 2, 2015 – will be the largest sports and humanitarian event anywhere in the world in 2015, and the single biggest event in Los Angeles since the 1984 Olympic Games. The 2015 Special Olympics World Games, with the unparalleled spirit, enthusiasm, teamwork, joy and displays of courage and skill that are hallmarks of all Special Olympics events, will feature 25 Olympic-style sports in venues throughout the Los Angeles region. The Opening Ceremony, to be held July 25, 2015 in the historic Los Angeles Memorial Coliseum, site of the 1932 and 1984 Olympic Games, is expected to attract 80,000 spectators. On April 30, 2014, LA2015 and ESPN announced a global programming deal that will see ESPN bring coverage of World Games to millions of fans around the world. Honorary Chairs of the Games are President Barack Obama and First Lady Michelle Obama, with Los Angeles Mayor Eric Garcetti and California Governor Jerry Brown serving as Honorary Hosts. Current Founding Champions and sponsors include The Coca-Cola Company, Mattel, Deloitte, Toyota, Bank of America, Kaiser Permanente, OUE Skyspace Los Angeles, Davis Elen Advertising, Microsoft, Toys"R"Us, The Walt Disney Company, Google, UPS, Herbalife, Los Angeles Times, AMC Theaters, La Opinión, Los Angeles Tourism and Convention Board, WWE, AEG, Annenberg Foundation, David Geffen, Kate Capshaw and Steven Spielberg, Panda Express, and Knights of Columbus. LA2015, the Games Organizing Committee, is a recognized 501(c)(3) non-profit organization. For more information on the 2015 Special Olympics World Games, including volunteer and sponsorship opportunities, visit www.LA2015.org and on social with #ReachUpLA on Facebook, Twitter and Instagram.
About Special Olympics
Special Olympics is a global movement that unleashes the human spirit through the transformative power and joy of sports, every day around the world. We empower people with intellectual disabilities to become accepted and valued members of their communities, which leads to a more respectful and inclusive society for all. Using sports as the catalyst and programming around health and education, Special Olympics is fighting inactivity, injustice and intolerance. Founded in 1968 by Eunice Kennedy Shriver, the Special Olympics movement has grown to more than 4.4 million athletes in 170 countries. With the support of more than 1.3 million coaches and volunteers, Special Olympics delivers 32 Olympic-type sports and more than 81,000 games and competitions throughout the year. Special Olympics is supported by individuals, foundations and partners, including the Christmas Records Trust, the Law Enforcement Torch Run for Special Olympics®, The Coca-Cola Company, The Walt Disney Company and ESPN, Microsoft, Lions Clubs International, Mattel, P&G, Bank of America, Essilor Vision Foundation, the B. Thomas Golisano Foundation, Finish Line, The Safeway Foundation, and Safilo Group. Visit Special Olympics at www.specialolympics.org. Engage with us on: Twitter @specialolympics, fb.com/specialolympics, youtube.com/specialolympicshq, instagram.com/specialolympics and specialolympicsblog.wordpress.com.
About Herbalife
Herbalife is a global nutrition company that has been changing people's lives with great products since 1980. Our nutrition, weight-management, energy and fitness and personal care products are available exclusively to and through dedicated Independent Herbalife members in more than 90 countries. We are committed to fighting the worldwide problems of poor nutrition and obesity by offering high-quality products, one-on-one coaching with a Herbalife member and a community that inspires customers to live a healthy, active life.
We support the Herbalife Family Foundation (HFF) and its Casa Herbalife programs to help bring good nutrition to children in need. We also sponsor more than 190 world-class athletes, teams and events around the globe, including Cristiano Ronaldo, the LA Galaxy and champions in many other sports.