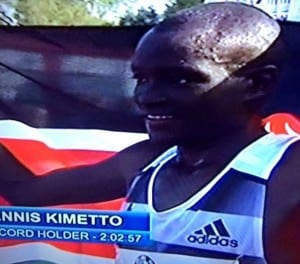 Kenya's Dennis Kimetto has broken the marathon world record in Berlin, winning the race in a time of two hours, two minutes and 57 seconds. This takes 26 seconds off the previous best set by Wilson Kipsang on the same course 12 months ago.
Kimetto is a Team Herbalife Athlete alongside Wilson Kipsang, Geoffrey Mutai, and Frank Line Chepkwony.
Herbalife provides these four Kenyan top runners, advice and use of the Herbalife24 product line. This line is designed by and for athletes so that they get the best possible preparation, enjoy the right training and quickly recover after exercise. The sport line, which offers over 24 hours of nutritional support, consists of products that the top runners can customise their nutrition program. Based on their effort, daily needs and training requirements .The products are continuously tested by an independent laboratory on banned substances (anti-doping testing) so athletes can use the products without problems.
"I feel good because I won a very tough race," said Kimetto.
"I felt good from the start and in the last few miles I felt I could do it and break the record."
Dennis Kimetto's times:
400m – 1min 10 secs
1km – 2:55
5km – 14:35
10km – 29:10
Half marathon – 1:01:28.5
Marathon – 2.02.57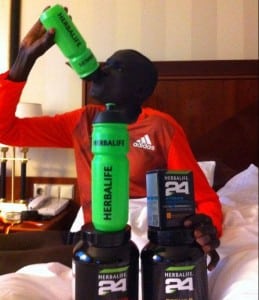 Herbalife 24
Many top athletes, including professionals, are unaware of the importance of proper supplementation. Athletes like Ronaldo are different "Nutrition is a weapon for me" .
Science shows that proper nutrition at the cellular level is at least as important to both health and athletic performance as strength training, cardiovascular training, and recovery time. In fact, it's the foundation for everything else. When you've trained as hard as you can, supplementing your diet with nutrients designed specifically to boost muscle growth, recovery, circulation, energy efficiency, and resilience of muscle fibers and connective tissue make all the difference.